This is my first official Fall outfit post, since today is the first day of fall. I along with most of the fashion world, absolutely adore fall. It kicks of the coziest time of the year and everything changes. From now until just after Valentines Day the world is wonderful.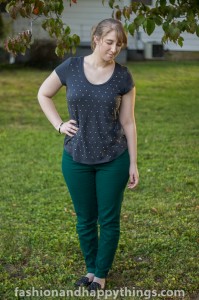 Of course since I'm still ill, the first outfit is just a toe in to fall fashion. I adore these green pants from H&M, last seen here. And this studded top from Gap is one of my absolute favorites, last seen here. My shoes are also studded loafers, that are the brand Wanted and I got from DSW.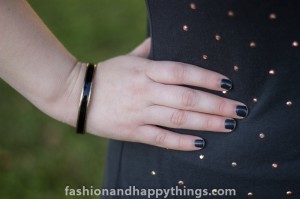 For my bracelet I just wore an H&M black and gold bangle, and on my nails is Lancome's Noir Caviar which is still going strong as my all time favorite. I actually think I might need to buy a new bottle soon, because I'm seriously running low.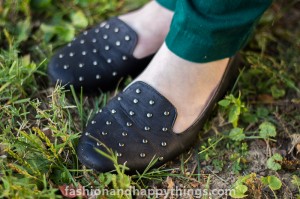 Here's a better look at the shoes. I absolutely love these, and even though I've worn them in all seasons, I think they're at their best when paired with fall fashions.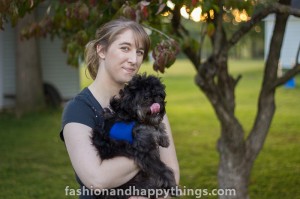 On my face: Chanel Vitalumiere Aqua, Nars Creamy Radiant Concealer in Vanilla, Nars Deep Throat Blush, YSL Babydoll Mascara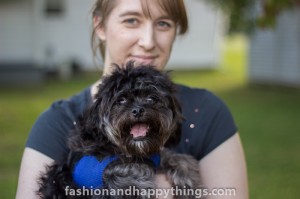 Howl is doing much better, which I am very excited about. This is his first fall ever. Since he was born in February. And I am so excited for him to play in leaves and go trick or treating with my son. And honestly? Winter was so weird last year I'm not even sure he saw snow last year.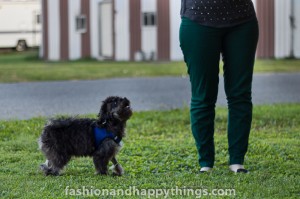 Fall is definitely off to a very good start.