Sometimes you just want to be comfortable, and that's totally okay. But there is a right and wrong way to do comfortable.
Right is a long shirt and leggings like you'll see below. Wrong is ratty nasty sweats, like you'll see on most women in my town. I don't know why people think it's okay to walk out of their house looking like that. I can only assume that they have no self respect.  That makes me Sad. Like Sheldon looking at stupid people Sad.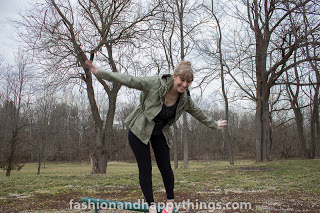 Here I am falling off the balance beam
I woke up last Saturday and decided to talk a walk with my family. So I got dressed in my coziest comfiest Saturday outfit and I was good to go. Then I decided I felt cute and convinced my husband to grab his camera. It was really lovely outside. I really enjoy grey days, and it started raining on the way home and rained for the rest of the day. Honestly, it was the perfect day.
We decided to go down to our local park, because they have a nice trail with a pretty wooded area. I actually do a lot of my pictures here, because the park is so close to my house and it has a lot of pretty or interesting areas for photos.
On my face is my Dr. Jart+ Black Label BB Cream, Nars Deep Throat Blush, YSL Shocking Mascara and YSL Volupte Sheer Candy in Cool Guava. I know, it's the exact same. I can't help it, it's simple and it works. My hair is a wreck. This was not an intentional messy bun, this was a my hair won't do a damn thing so it's messy, oh well bun.
I'm wearing my new Twill H&M Jacket, Gap Studded Tee, Hue Leggings and Coral and Tan H&M Flats. I love this jacket,it's warm and it has such a pretty print inside. I'm pretty fond of the Utility style of it, and that thanks to a snap the hood always looks perfect. The Top is an old favorite, I've had for two years, and every time I put it on I always think I should buy more tees from Gap. Obviously I adore these Hue leggings. They're opaque and comfortable, plus they hit my ankle at just the right spot. I was totally not a good idea to wear these shoes on the walk because they were new and it was not the best time to break them in.
 Despite the face that it gloomy out I still needed my sunglasses, these are from H&M. I'm wearing Illamasqua's Speckle on my nails. It's gorgeous, I'm in love, I don't think I need to say anymore about it. But I probably will, later. I don't really go anywhere with out them. I adore H&M's sunglasses, okay I kinda adore everything from there. I swear about 90% of my closet is H&M. I just can't help it, the prices are great and the quality is amazing. I'm a bit obsessed.
 Okay I have to be a bit honest about something with you guys. My husband is kinda a professional photographer. He's currently working as a programmer, but yeah. So that's why my photos always look so great. I'm learning very slowly to take photos, but for the most part every photo you see on this blog has been taken by my husband, except the crappy iPhone pictures. Okay even most of those. They're only crappy because they were taken on an iPhone rather than his DSLR.
However, there is very little editing ever done. He'll fix the lighting if need be or he might clean up my face if I'm suffering from a particularly bad break out. Which sometimes can be a lot of work. But my product photos are true to real life color, and my review photos of the product on my face are as they appear in real life. He doesn't need to do a lot of editing because he knows how to work his camera, and how to tell a person to pose so they look nice.
We don't do the make me look thinner, or add extra "makeup" to my face. If I can't apply it properly myself, and if I don't look good in my pose that's my fault. While he could fix it, I prefer for him not too.
So I told you all this to say, yes I am that pale in real life. That's not a trick of the lighting, or editing or whatever. I really do look like an extra from Interview With The Vampire all on my own.