I originally read this book over a year ago, and recently picked it up for a thumb through when I was sick. I forgot how much I liked it. Things We Didn't Say by Kristina Riggle is a really moving story, told from several points of view over a period of 48 hours.
Stepping into a ready made family is never easy, and on the morning the Casey's secrets are driving her out, Dylan her soon to be stepson disappears after being dropped of at school. In the ensuing terror and upset as the family searches for Dylan, Casey's secrets, among others come out, changing everything.
This story was written really well. Everyone's back story while perhaps a bit traditional, since you  have the new Fiance, the Father, the bratty teens, the overlooked middle child, the brainy youngest, and the Batcrap Crazy ex-wife, it's all still really well written out. The people don't feel flat or one dimensional. Casey seems to be the only one who keeps her head in all of this mess, everyone else either goes off the deep end with worry, or in the case of the ex-wife is incredibly self absorbed and thriving on the Drama.
For me this story was a bit out of my comfort zone. The family dynamic type stories aren't ones I usually read. In truth, I usually read either flippy little murder mysteries, supernatural type books, or dark and twisted books. This book felt more like a messed up sitcom to me than any of those. But I did enjoy it.
Final Verdict, I recommend it. While it's not a light read by any means, it's still a really good one. I know I didn't go into much detail, but it's the secrets in this books that make it so interesting.
The outfit I'm wearing was inspired by Nina of after the 40 bar finish. I really loved the outfit when I saw her wear it, and remembered it instantly when I saw my floral pants sitting on the chair in my room waiting to be put away.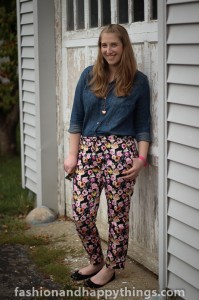 I'm wearing a Feed For Target Chambray, Floral Pants from H&M (last seen here) and Sam Edelman Calypso Flats in Black.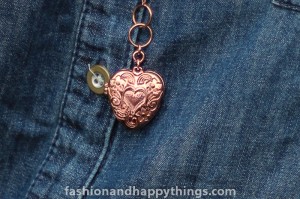 I paired it with my Lover's Locket from Jewelmint, which has been one of my favorites for this season so far, and been pretty much just alternating with my Pen Necklace.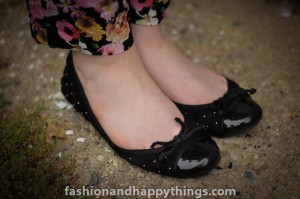 Close up of the Sam Edelman's. These are definitely one of my favorite pairs of shoes and well worth every dime.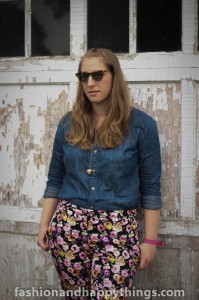 I also wore my Madewell Drifter sunglasses and had a pink Emi-Jay hairtie for pulling back my hair while driving.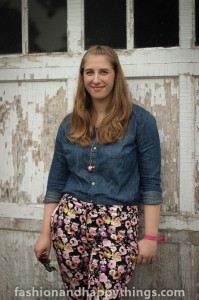 On my face was Lancome's Tient Vissionaire Foundation and Concealer,  Nars Deep Throat, YSL Babydoll Mascara, NYX Skinny Eye Marker Eyeliner, and whatever random lip gloss I grabbed out of my purse first.
I felt surprisingly comfortable in this outfit, even though tucked in shirts are way out of my comfort zone. Have you worn anything out of your comfort zone lately and then ended up feeling like you were pulling it off.