So I received an email from a lovely lady at Modcloth, saying they would love to see how I would layer some Modcloth pieces for Fall. And fall is my favorite thing, and the Modcloth site is seriously my guilty pleasure (only I'm not guilty about it). Especially their cardigan selection. I'm sure you all know by now I'm sweater obsessed and Modcloth has the cutest cardigans.
Since I'm sick, you're getting this post in lieu of a Stylish Sunday's post this week, but I promise to get back to my regular posting as soon as possible.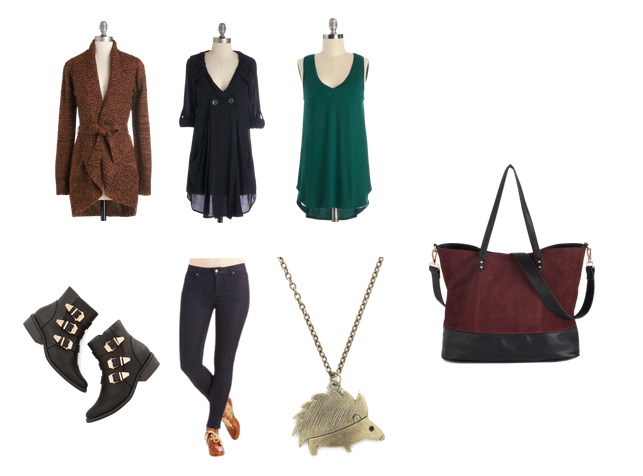 I am actually completely in love with this outfit and if it could magically appear in my closet, I would be forever grateful.
I started with the Endless Possibilities Tunic in Forest  as a base layer because I loved the color and then added the Busy Week Tunic in Black over top, because it's sheer and I love the way green looks under black. Then I would add the Adventure and Splendor Cardigan over top because it's the perfect mix of Autumn Colors and coziness for Fall.
And because I was on the site, I finished off the outfit with the Pacing Pavements Jeans, because they look so comfortable. Then I paired it with the Prancing In The Streets booties, because I love the buckles they're just so cute. And then the Alright Berry On tote and Hedgehog Pledge necklace completes the outfit for the perfect look to run around in this fall. Or ideally for me, to get coffee in and then curl up in the corner of a library somewhere, or to dinner for Thanksgiving with my family.
What are your favorite Modcloth pieces? And what's your perfect fall outfit?