This weeks book is of course The Halloween Tree by Ray Bradbury. I couldn't think of anything more fitting for the day before Halloween.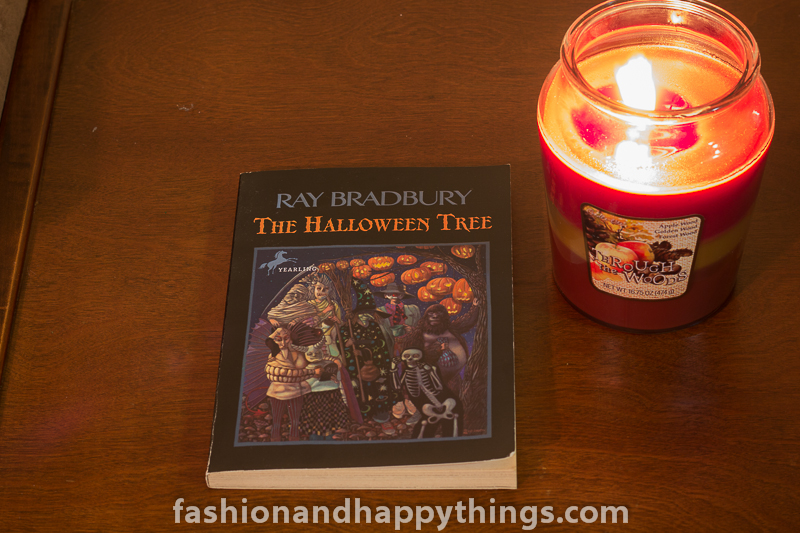 This book follows 8 boys in a small fictional town on Halloween night as they try to save their friend Pip and discover the meaning of Halloween. Carapace Clavicle Moundshroud takes the boys on an adventure to find out why they're dressed as witches, monsters, mummies and skeletons. He shows the boys not only the why and the how's of Halloween, but how far they'll go to save the greatest boy that ever lived Joe Pipkin.
This book has absolutely no flaws for me, being both written by Ray Bradbury, and a huge part of my childhood. I'd even say that this book has a lot to do with where I live, which is a small town very much like the book where "there wasn't so much wilderness you couldn't see the town. But on the other hand there wasn't so much town you couldn't see and feel and touch and smell the wilderness."* Mr. Moundshroud was the first character to show me that sometimes you couldn't be sure if someone was your friend or a villain until the end. And Pip, oh pip. I hope that by the time he's 12 my son is just like and has friends as loyal as Joe Pipkin,' the greatest boy who ever lived, and on the day he was born all the Orange Crush and Nehi soda bottles in the world fizzed over."*
Final Verdict: I wholeheartedly, full stop, recommend this book. It doesn't matter how old you are, if you love Halloween, you'll love this book. Ray Bradbury's words take you into the world of that Halloween Tree and you find yourself racing with all the boys, and willing to do anything to save Joe Pipkin.
I thought of dressing up in costume this week, but I honestly haven't worn a costume for Halloween since I was 21. It's just not my thing anymore. So I decided to wear some of my favorite cozy clothing.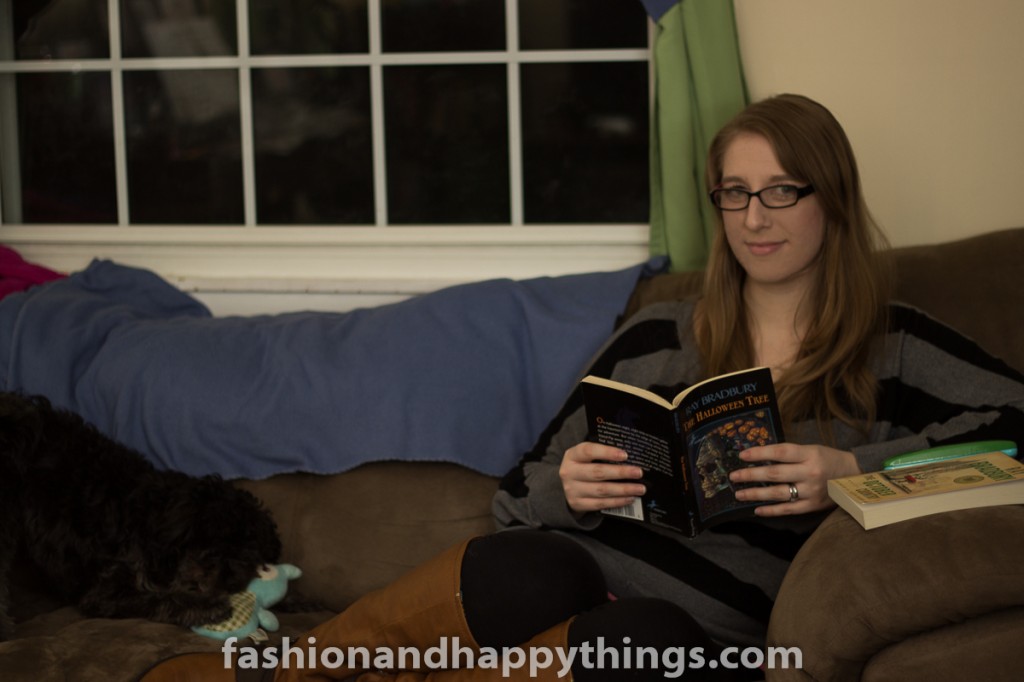 I'm wearing a gray stripey sweater from Gap, Glasses from Kate Spade. Victoria's Secret Most Loved Yoga Leggings and Pink and Pepper boots. I love this sweater because it's long enough to cover my butt and make these yoga leggings acceptable for public wear. And there's howl being adorable with his Owl toy from Martha Stewart's Petsmart Line. I really love that line for dog clothes and toys.
Bonus: Pinterest Told Me To  blogger Sheaffer recently did a post about
Mixing Black Brown and Gray
and I totally agree with her. It's an amazing combination.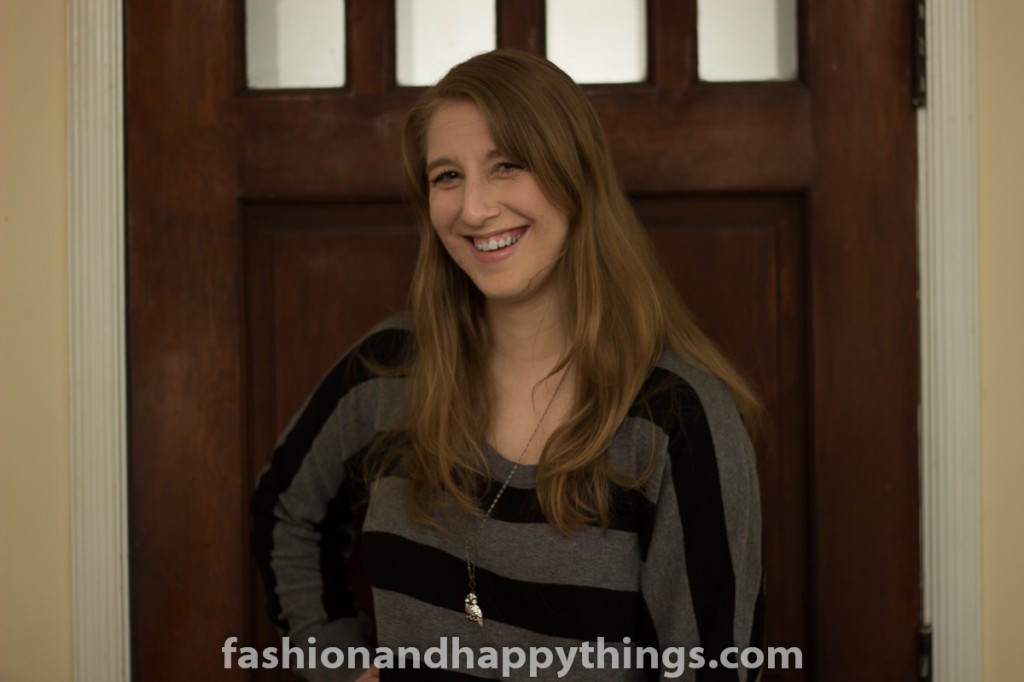 My makeup is super simple, just Rimmel's new Stay Matte Liquid Mousse foundation that I received from Influenster, Nars Deep Throat Blush, Rosebud Salve Strawberry Lipbalm, Nyx Skinny Eye Marker, and YSL Baby Doll Mascara.
My Necklace is a Tiny Owl that I have no clue where I got, and not pictured are my Kate Spade Gumdrop Studs in Clear Silver.
Howl decided to get into the Halloween Spirit: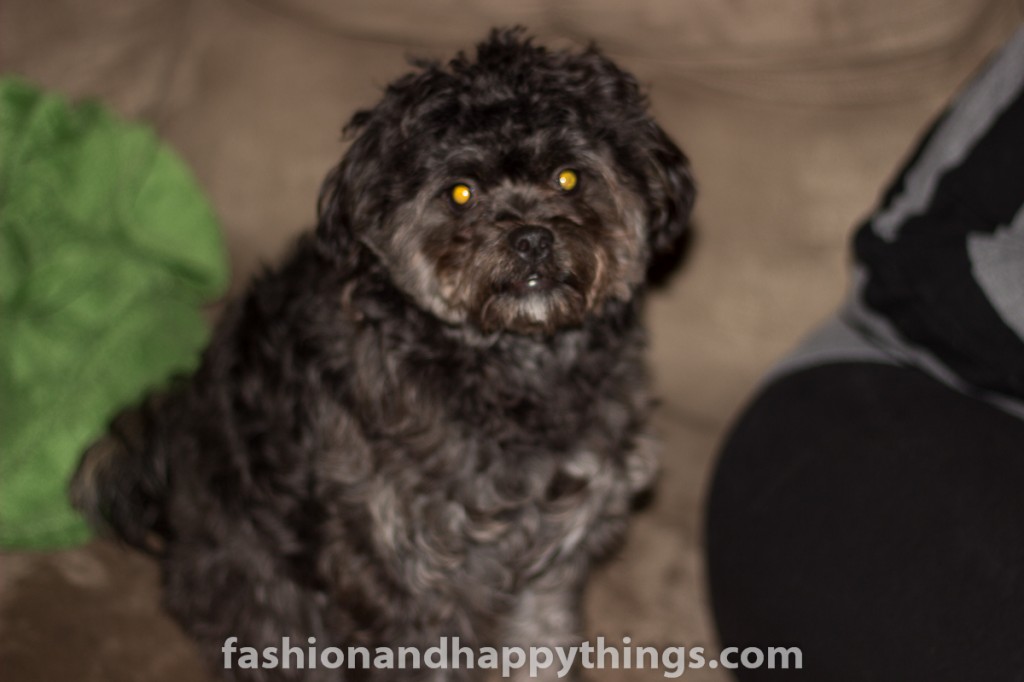 He says he should totally play a Hell Hound on Supernatural. I keep trying tell him he's too adorable and Hell Hounds are invisible.
He then said he's not adorable, he has Fangs and is Majestic and Ferocious, and the resemblance is
striking
.
What are your Halloween Plans? I plan to take my son trick or treating and then come home to curl up with Bitter River which I'll be reviewing next week. Happy Halloween.