This is another before I got my hair cut outfit, I've got one more coming that I might do midweek and then I'll be all caught up to now.
Have I mentioned before how much I love these peach pants?
Top: V.S. Pink, Pants: H&M, Shoes: Sperry Topsiders, Necklace: Kate Spade, Bracelet: Alex and Ani, Sunglasses: Madewell Drifters
Because I'm kind of obsessed with them. I'm pretty sure that it's because they're ankle length. Because I just ordered two more pairs of ankle length pants. I'm also a huge fan of this shirt. It's stripey, and cozy and perfect. I wear it way more than I should, and it's been washed a lot. But it's held up really well, so I'll probably wear it til it's falling apart.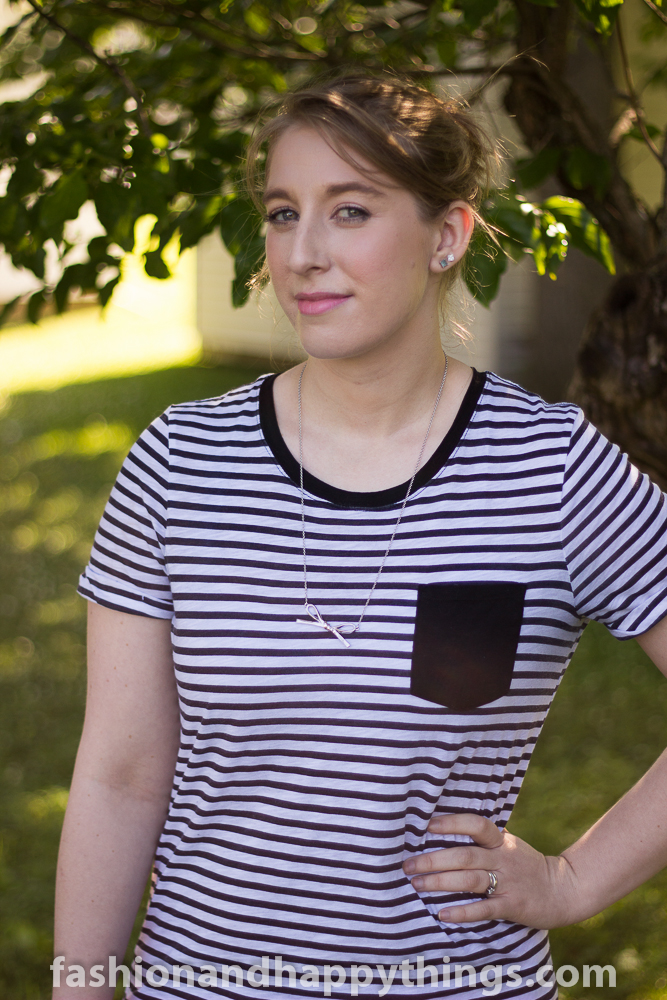 On My Face: Nars Pure Radiant Tinted Moisturizer, Hourglass Hidden concealer, The Balm Frat Boy Blush, The Balm Mary Lou Manizer, Marc Jacobs Lolita Palette, YSL Babydoll Mascara, Dior Lipstick in Dior Kiss
Hair: Messy Bun with Emi-Jay Hair Tie
I don't actually miss my long hair. Normally whenever I get it cut, I do. And I tell people to never let me cut my hair again. But this time is different. Looking back at pictures from when I had long hair, I don't miss it at all. I'm so glad I cut it off and I'm excited about keeping it this length, or maybe even going an inch or two shorter.
I love these shoes, but they still aren't broken in yet. I skipped the no show socks this day and ended up with terrible blisters on the backs of my heels. And I didn't have any bandaids with me so I ended up driving home from the store barefoot. Which let me tell you, feels weird. Like Really wrong. I need to learn to get some comfortable flats to keep in the car.
What's your current favorite clothing item?