I love mid-Autumn. It's the best part of Autumn. The air is crisp, my yard is covered in leaves, and the air hangs heavy with the scent of woodsmoke. You know winter is coming, and with it all the wonderful sentimental Holidays, and snow, but it's not here yet, and everything feels exciting to me.
This Autumn has been super busy for me, and I've neglected this blog a bit. Or well a lot, and I feel guilty about that, but there's really not much that I can do about it.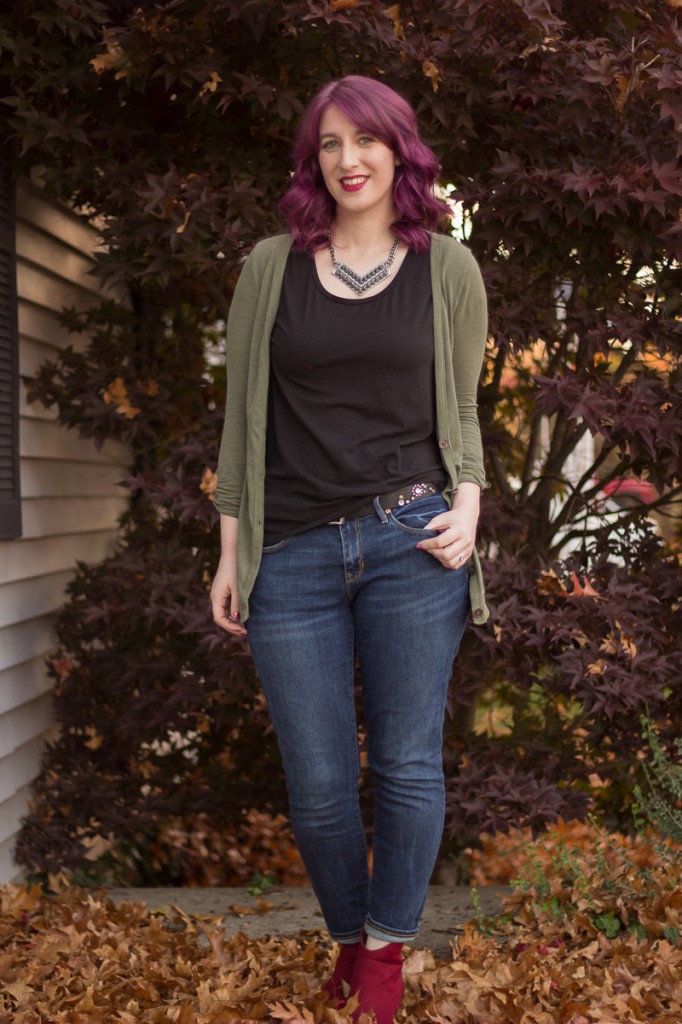 Top: Ann Taylor Loft, Cardigan: American Eagle, Jeans: Gap Jeggings, Belt: Maurices, Nails: Zoya Binx
Oh yeah, and I dyed my hair purple. I've wanted to do it for a while now, but kept chickening out, but I finally impulse dyed it thanks to someone I follow on twitter posting that she dyed her hair dark purple. I'm absolutely obsessed and trying to decided what color I'm going to do next. I'm thinking either dark purple, teal or dark blue.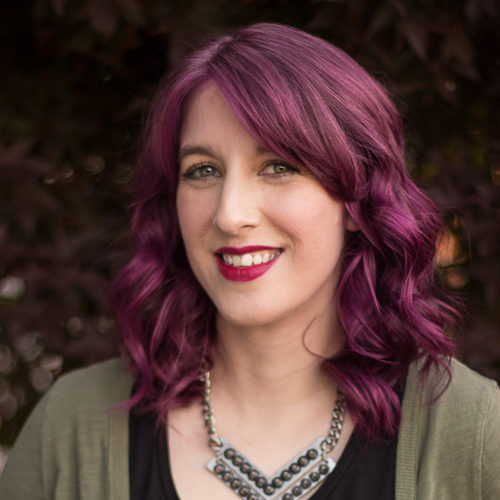 Necklace: H&M
On My Face: Rimmel Stay Matte Foundation, Hourglass Blush, Maybelline The Nudes Eyeshadow Palette, Makeup Forever Eyeliner and Mascara, Sonia Kashuk Dalia Lip Crayon, The Balm Mary Lou Manizer
I plan to do a full post on how I dyed it, and my experience with the dye soon.  But these pictures are absolutely true to color. For reference now I used Color Ion Brilliance in Fuchsia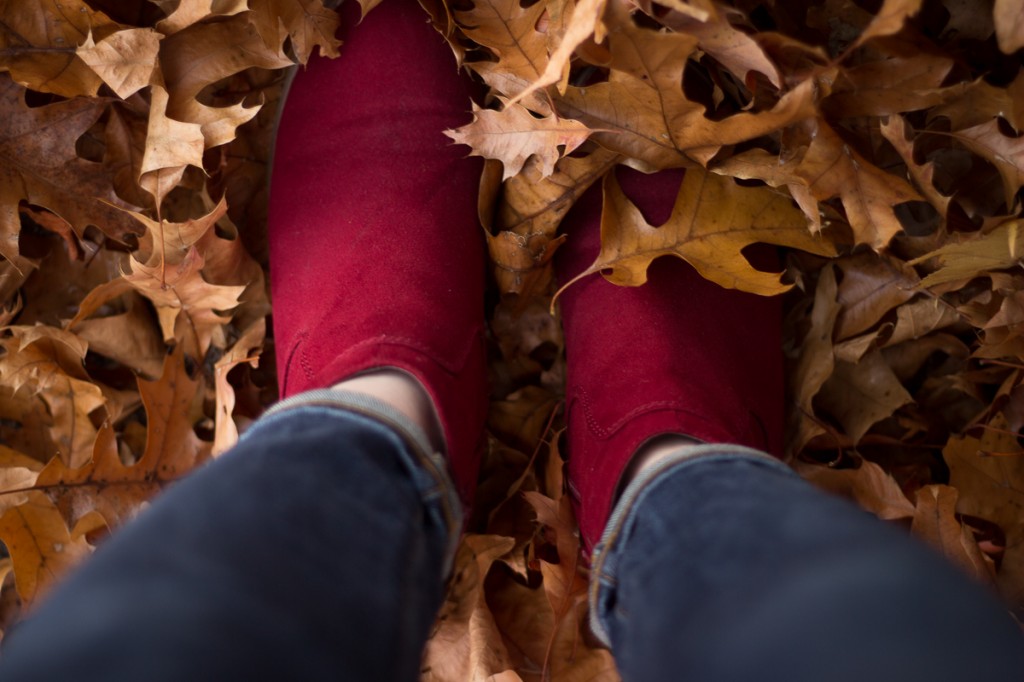 Shoes: Old Navy
Since it's November first I'm going to show you what I wore for Halloween. I originally planned to dress as Taylor Momsen this year, but it was much to cold. So I randomly threw this together, and decided I looked like a practical version of a female comic book super hero. All I needed was a utility belt. I had one person say I looked like Hit Girl (pretty sure it was just the hair) with out all the weapons. I haven't managed to watch the entire movie yet, because blood bothers me, but I want to.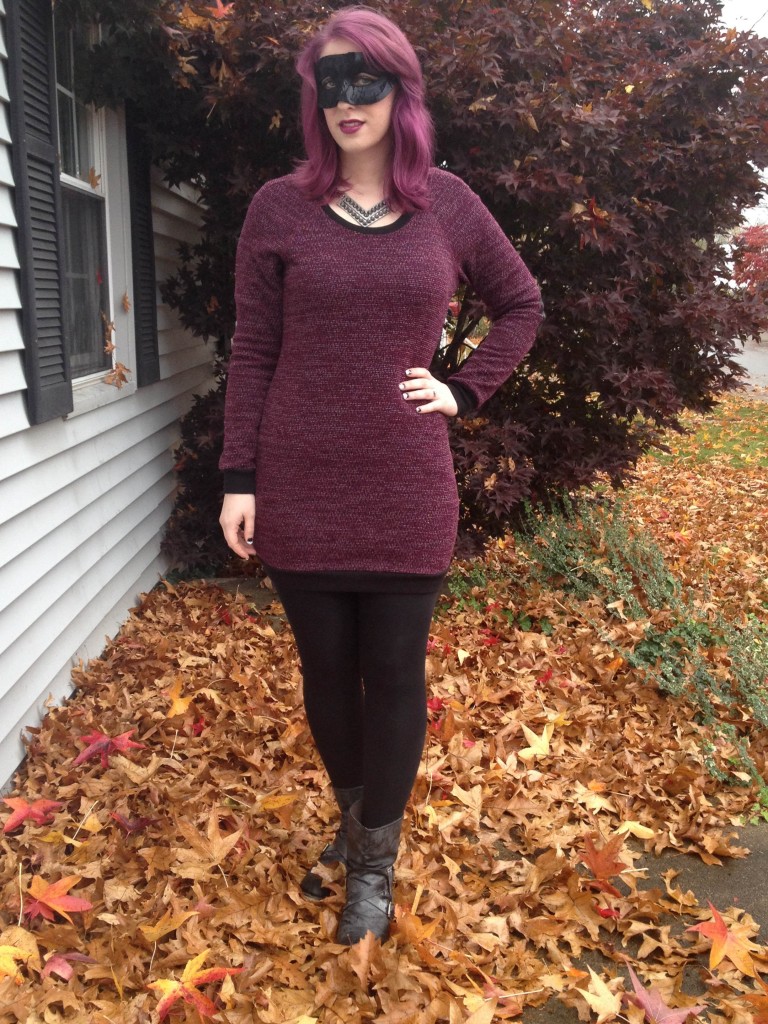 Dress: Maurices, Tights: Hue, Boots: Rebels Taos Moto Boots
That's actually the bits you can see, I'm actually wearing thermal leggings by American Apparel and another pair of Hue Tights under the black Hue Tights, and a H&M Tee Shirt Dress and a really old v-neck sweater from Forever 21 underneath the dress.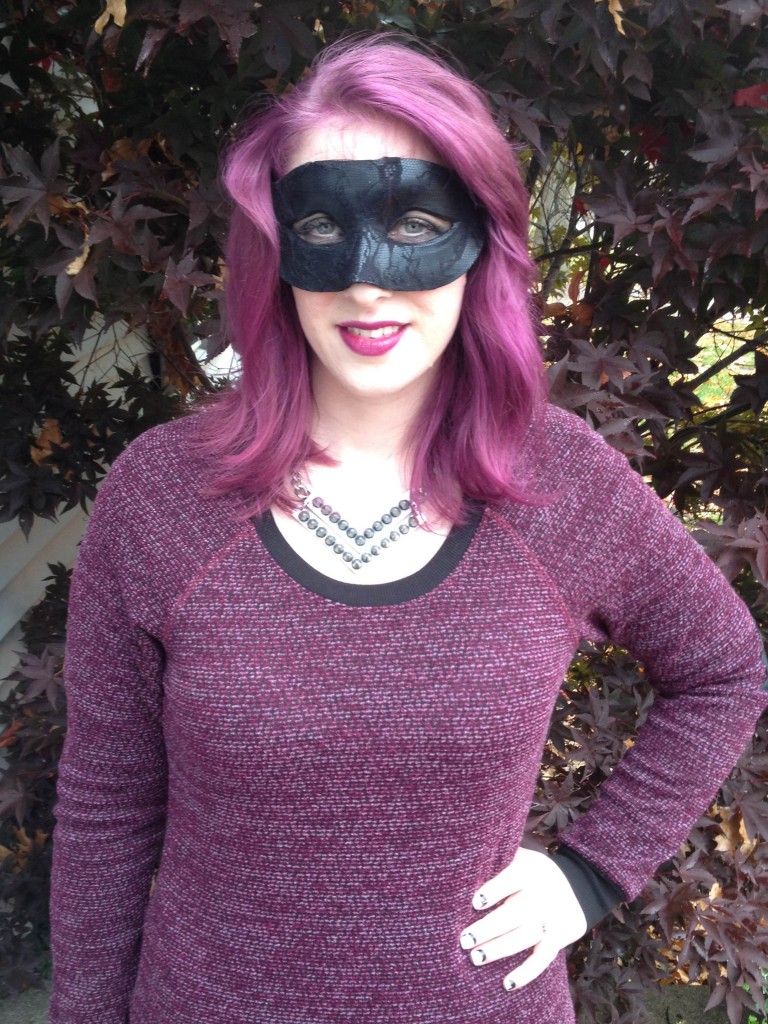 Mask: Halloween Express, Necklace: H&M, Nails: Sally Hansen Glow In The Dark Haunted House Nail Strips
On My Face: Nars Tinted Moisturizer, Hourglass Blush, Maybelline Black Eyeshadow, Makeup Forever Smokey Extravagant Mascara, Sonia Kashuk Dalia Lip Crayon, Revlon Shameless Matte Balm Stain, Victoria's Secret Le Femme Lipgloss
I know my hair looks way lighter here than it does in the above pictures, it's just the lighting. The top photos were taken on our DSLR, by my husband who's a photographer, with the white balance perfectly set to get as true to color as we possibly can.  These photos were taken by my Dad on my iPhone before we left to take my son Trick Or Treating because sadly my husband was/is sick. Also I have a ton of dry shampoo in my hair because when you dye your hair a funky color the less you wash it the longer the color lasts.
What were you for Halloween? Have you ever dyed your hair? and finally, What color do you think I should dye my hair next?