I put off reading this book for so long. I'd heard so many people say it was heartbreaking, and it made them cry, I don't like sad things, so I while I wanted to read it, because John Green is an amazing writer, I didn't want to because books that make me cry are my least favorite of all the books.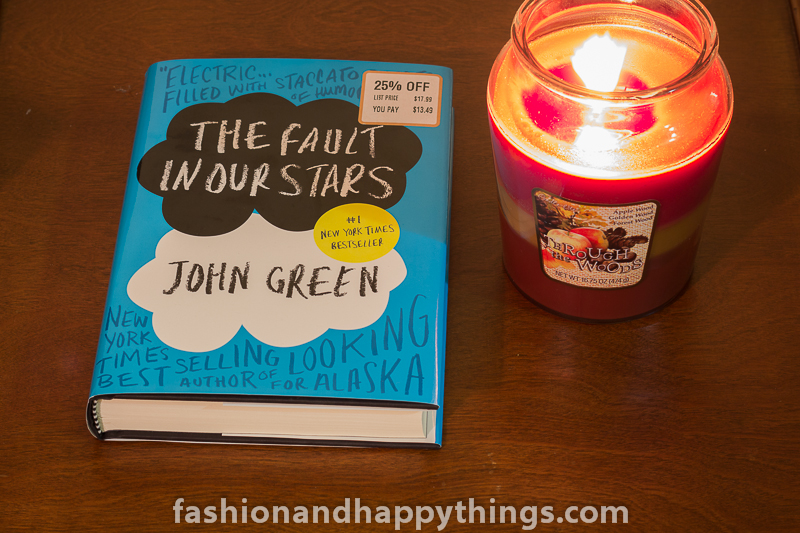 I, however, didn't have the same reaction as apparently every other person I'd seen review this book. I didn't sob and scream about the feels. The strongest feeling I really had was that of being propelled forward, and even when I knew what was coming, I couldn't stop. It was inevitable. I sat down and read this book in 6 hours. The feeling I had that came with the ending was no, this was not enough. I want to know more about Hazel, I want to know more of her life.
It could be said that this book is about two cancer patients. But I think this book is more about two teenagers who just happen to have cancer. The humor is dark, and tragic, but hilarious all the same. Just because I didn't cry, didn't mean this book didn't break my heart. Okay.
I'm really happy I waited until I finished it to watch the movie trailer. I'm so excited for the movie now. The trailer is perfect and from what I see they couldn't have cast it better. But if you aren't as patient as I am, I'll just leave it here for you.
http://www.youtube.com/watch?v=9ItBvH5J6ss
Final Verdict: I recommend this book. I loved this book. I loved it so much I know I'll read it again. It's on the same level as the Virgin Suicides, P.S. I Love You and the Aunt Dimity Series for me. I plan to read everything John Green has written, even his grocery lists. And I want other people to read this book.
Disclaimer: Trailer is property of 20th century fox.