I am a big fan of the 90's. I turned 4 in 1990, so everything I really remember about my childhood happened in the 90's. My So Called Life and Are You Afraid Of The Dark were my absolute favorite shows, Clueless is still my favorite movie and Placebo is still my favorite band. So of course I'm a big fan of the 90's Grunge revival that's happening right now.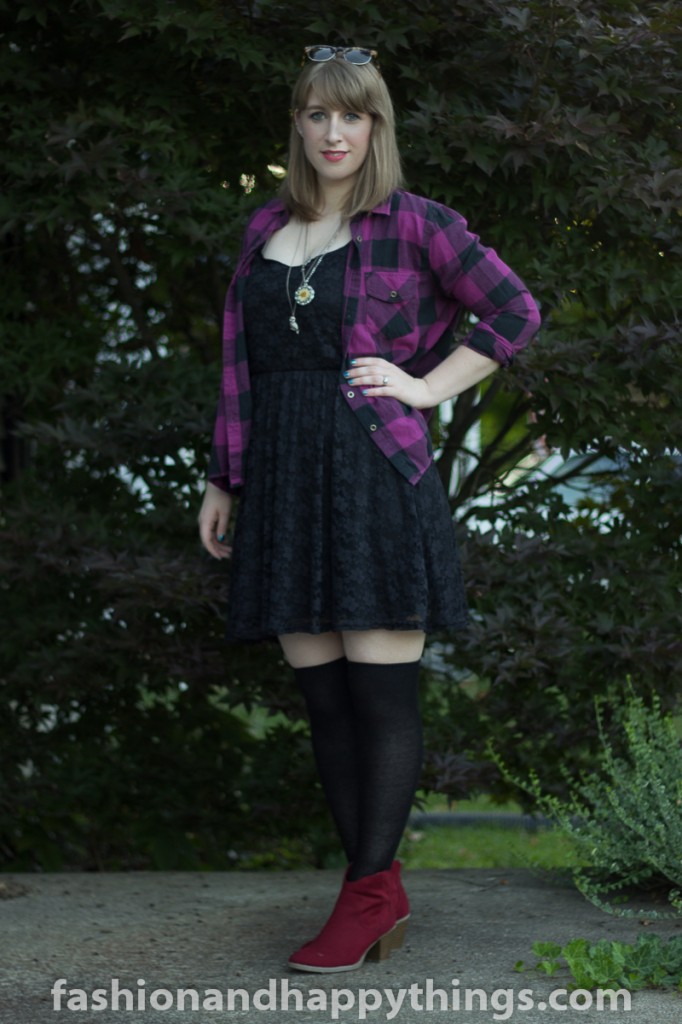 This outfit was a complete accident. I hang my long sleeved shirts and button downs on the same rail as my dresses and I completely forgot about this flannel. So I was flipping through my closet and this dress and top were right next to each other.
Since  this tweet conversation happened after I bought this dress,
I just want to wear flannels and black baby doll dresses and @Keds with knee socks #90sbaby #keds I'm sure @leighannsays would approve.

— mana (@ManaSmith86) July 17, 2014
@ManaSmith86 @Keds of course I do!

it was like the clouds parted and Angela Chase told me I had to.

Dress: ASOS,  Flannel: PacSun, Knee Socks: Hue, Booties: Old Navy, Sunglasses: Madewell

On My Face: Nars Pure Radiant Tinted Moisturizer, Nars Radiant Creamy Concealer, Nars Blush in Deep Throat, The Balm Mary Lou Manizer, Marc Jacobs The Lolita Palette, Urban Decay 24/7 Glide on Eyeliner in Delinquent, YSL Babydoll Mascara, Benefit They're Real Mascara, Hourglass Liquid Lipstick in Rose, Bath and Body Works Lipgloss in PommeCider

Necklaces: Gift, Gift, Forever 21

Nails: Zoya Muse Because what other nail polish would you wear with a very 90's outfit?

I am completely aware that I need more flannels in my life.  And don't be surprised if you see another one pop up here in the next few weeks. Seriously if I could wear flannels from now until Spring I would. We were geniuses in the 90's, tying a flannel around your waist makes it look tiny, and if you get cold, oh look you have a nice warm flannel right there.

What's your favorite trend from a past decade that's current right now? Midi Skirts from the 50's, Mini's from the 60's, Boho from the 70's, Neon or Leggings from the 80's, or the Grunge from the 90's? Let me know in the comments below.