This week has been awful. First on Sunday, on my way to the store this happened
First play through of "white wine in the sun" for the Holiday season and I wrecked my makeup (and almost my car) thanks @timminchin

— mana (@ManaSmith86) November 9, 2014
I really did almost wreck my car. While I couldn't really see because mascara burns when it's in your eye, this guy decided he's going to make a left into my lane and cut me off and I just barely managed to brake in time to not end up in his trunk. Then while I was in the grocery store someone stole my bankcard and my library card out of my purse, while I was wearing it. I don't know why they took my library card too, but they did. That really messed me up, it felt like a bigger violation, and I was pretty much a mess about the whole thing the rest of Sunday and all of Monday. And finally I've been really sick for the past couple of days and I'm going to the doctor tomorrow.
So that's why this post is so late.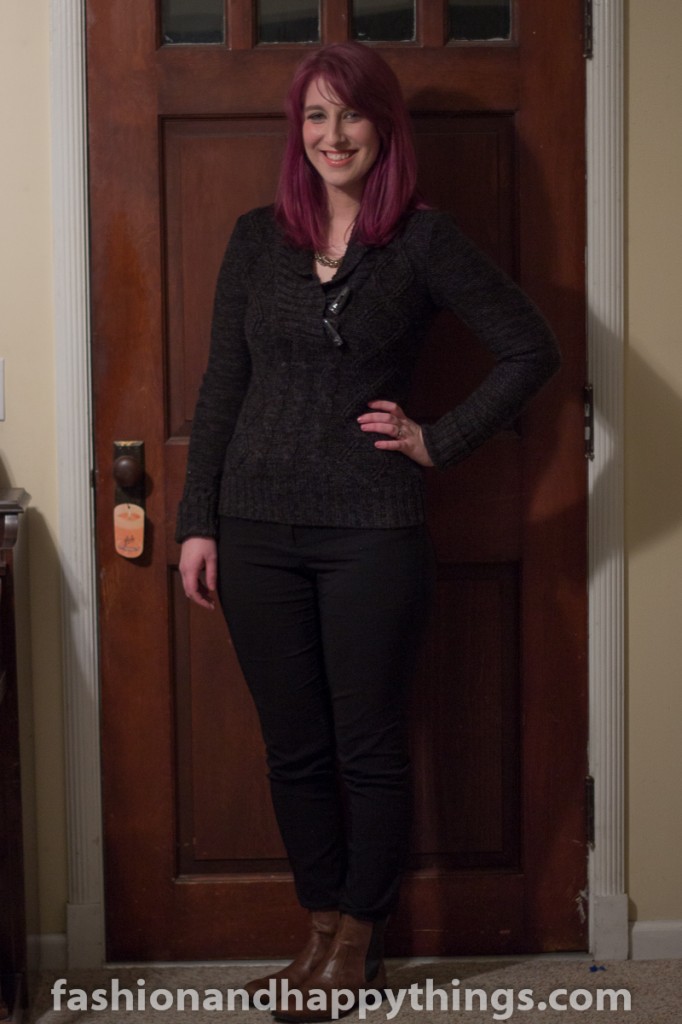 Sweater: Nordstrom, Pants: H&M, Boots: H&M
I'm super excited about this sweater though. I've had it forever and I absolutely adore it. I love cable knit everything, and am still on the hunt for a perfect cream or white cable knit sweater.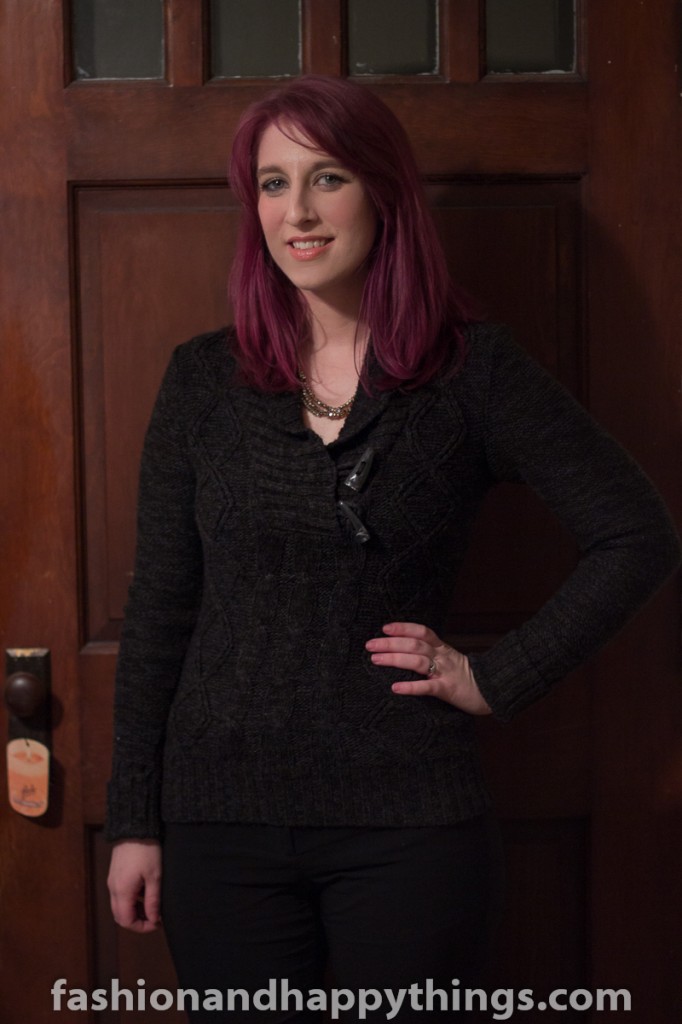 On My Face: Nars Tinted Moisturizer, Marc Jacob The Lolita Palette, Maybelline The Nudes Palette, Makeup Forever Eyeliner, Makeup Forever Smokey Extravagant Mascara, Revlon Cherish Kissable Balm Stain, Strawberry Fizz Victoria's Secret Lipbalm, Hourglass Ambient Lighting Blush, The Balm Mary Lou Manizer Highlighter
Hair: Color Ion Brights Fuchsia
Necklace: H&M
Since it's late Autumn I'll try to get as many pictures taken outside as I can, but because it gets dark earlier and it's cold, it's back to the old wooden door as my backdrop.
Side note: All November, December and January proceeds from the sale of White Wine In The Sun go to The National Autism Society. Check out the song and then maybe get a copy for yourself and for a friend, it's a beautiful song and a great cause.
What's your favorite Holiday song?