I mentioned in my Fault In Your Stars Review that I wanted to read everything that John Green has written including his Grocery Lists. So I picked up all of his other books except for what he's written with other Authors and any anthologies he's been in.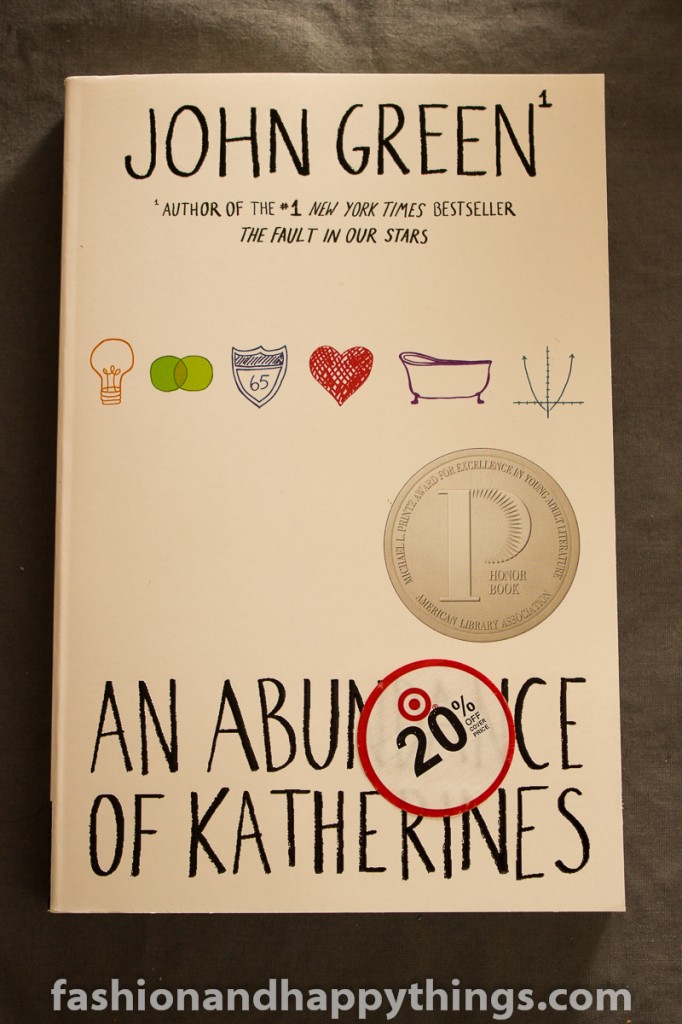 Colin Singleton is really smart, a child prodigy, who is obsessed with Anagrams and not so great in math.  However, Colin thinks that if he can complete The Theorem of Underlying Katherine Predictability, that he can win K19 back. While still heartbroken over his breakup with K19 his best friend decides that he needs a road trip. They stop in Gutshot, Tennessee to see the grave of the Austrian Archduke Franz Ferdinand and because all road trips need a destination point, decide to stay put for a while and hopefully finish his Theorem.  The Theorem of Underlying Katherine Predictability is to predict the trajectory of relationships with girls named Katherine, or not named Katherine, and to give a bit more footing to the people who are constantly Dumpees.
This book is hilarious. I adored it and think that everyone should read it. While the math is completely over my head, it is correct, and explained at the end of the book. And one of my favorite parts of the book were the footnotes, which can be skipped, if you're not a footnote reader, but shouldn't be. They made the story more entertaining for me, and made me feel more involved and in the loop of what was going on.
Final Verdict: I completely recommend this book. I must warn you, if you're looking for something as deep as The Fault In Our Stars, you'll be sorely disappointed. An Abundance of Katherines definitely takes more of a light-hearted look at the side of breakups. Even when Colin is absolutely heartbroken over breaking up with K19 his best friend is there to mock him in his pain (as a real best friend would) and provide the comic relief.